The Janet Albrecht Memorial Scholarship
The Janet Albrecht Memorial Scholarship will be a new addition to the American Hand Therapy Foundation awards in 2019.
FUNDED BY:
American Hand Therapy Foundation
FUNDING AMOUNT:
The scholarship amount will be a total value equivalent to $1000. The funding can only be used to complete an educational program.
APPLICATION WINDOW:
The application window is open from May 1 through July 1. Award notifications will be sent by August 1.
Homage to Janet Albrecht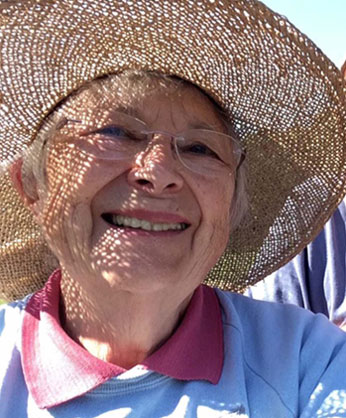 Jan was well known for her warmth, creativity, acceptance of everyone and for her incredibly caring and generous heart. She obtained her degree as an Occupational Therapist from the University of Minnesota in 1957 and worked in several places in Minnesota over the years sharing her healing gifts, including the Veteran's Administration, Immanuel-St. Joseph's in Mankato, Sister Kenny, Mayo Clinic, Abbott Northwestern, and Fairview Hospitals. She led a brain injury support group in Mankato and leant an ever-generous and supportive ear to many, many people wherever she went. She attended one of the first-hand therapy post-professional courses at Mayo Clinic in Rochester, MN. She became a Certified Hand Therapist in 1991, in the first examination cohort of the Hand Therapy Certification Commission. Due to her own struggles with basilar thumb pain which traditional therapies were not effective, she discovered of principles for dynamic thumb stability, which includes the power of the First Dorsal Interosseous muscle. From her own success in pain reduction and strength, and of those she treated, and with her artistic skills in photography, she wrote a patient education resource book that continues to receive global accolades entitled "Caring for the Painful Thumb." She designed a unique orthosis for the base of the thumb which continues to be used by therapists around the world. Jan also became a Certified Kinesotape™ Instructor. This enabled her to design a unique taping technique for the basilar joint of the thumb which is featured in her book.
Jan had a wise statement which has guided many in the care of the painful thumb, "No two thumbs are alike." She also said, "It is not about the orthosis, but it is about dynamic stability." She was a woman way ahead of her time, seeing the possibility of having a strong, stable thumb, even in the presence of the appearance and diagnosis of osteoarthritis of the basilar joint of the thumb. She was passionate about educating people to care for their own thumbs for their lifetime. Jan saw each person's thumb anatomy as unique and gave personalized guidance and care instructions based on how each individual used their thumbs. She was always mindful to use her Occupational Therapy background and hand therapy knowledge to take each person into account in the design of a home care program. If a person she cared for needed to have an orthosis, her desire was always to make a plan to wean them out of the orthosis as their pain subsided. This is a major hallmark of the dynamic stability program she designed for the thumb.
Aside from Jan's many professional achievements, Jan had many interests and talents. She loved to grow, cook, preserve, and share fresh vegetables on the small farm she ran with her husband Ken in Mankato, MN. She was also an artist in many ways, enjoying photography, weaving, pottery, calligraphy, and book illustration. She always had a very generous and giving spirit, sharing her gifts and passion for life with friends, family, and even strangers.

Purpose
Family, friends and colleagues wished to memorialize Jan's life and work through a scholarship. The Janet Albrecht Memorial Scholarship provides opportunities for professional development by providing financial support to an Occupational Therapist (OT) or Physical Therapist (PT) in the process of pursuing the certification in hand therapy and/or a post-professional advanced degree.
Eligibility
For those interested in pursuing a post-professional program, applicants must show proof of acceptance into program prior to application.
For those using the funds to pursue the CHT credential, the award candidate must meet HTCC's general examination eligibility requirements or be eligible to meet the certification requirements by the time the exam registration is due. See www.htcc.org for certification requirements. Applicants must plan to take the examination either in November of the year they receive the award or May of the following year.
GRANTS
Supporting novice or experienced researchers who are able to expand the scientific evidence, visibility, and quality of upper extremity and hand rehabilitation.
DONATIONS
Support our mission of promoting high impact clinical and fundamental upper extremity research. Your generosity makes a difference! Support your profession through a tax‑deductible gift today.