Happy Hour with a Scholar
Friday September 21, 2018 | 6:30 PM – 7:30 PM
The American Foundation for Hand Therapy: "HAPPY HOUR with a SCHOLAR"
Is hand therapy maintaining its standing as a discipline by tending to its scientific foundations?
Speaker: Joy MacDermid, PT, PhD
Enjoy this interactive happy hour session with the 2018 Editor-in-Chief of the Journal of Hand Therapy, Dr. Joy MacDermid. Attendees will have the opportunity to network with scholars and colleagues as the world renowned Dr. MacDermid will lead a discussion highlighting the current trends in the science of hand therapy research. Your $35 contribution to attend this event will support the American Hand Therapy Foundation's Research Grants.
At the end of the session participants will be able to:
Explain the researcher/clinician profile of the hand therapy profession.
Recognize the implications of publication trend in the Journal of Hand Therapy.
Identify challenges to the scientific foundations of upper limb rehabilitation.
Propose potential solutions to emerging challenges.
CEUs = .5 Credits
Speaker Biography
Dr. Joy MacDermid, our Editor-in-Chief for the Journal of Hand Therapy and 2009 ASHT President, is a Professor at the School of Physical Therapy at Western University, Canada. She holds a CIHR Chair in Gender, Work and Health, and the Dr. James Roth Research Chair in Musculoskeletal Measurement and Knowledge Translation. She is also the Co-director of the Clinical Research Lab within the Hand and Upper Limb Centre (HULC) in London, Ontario.
Dr. MacDermid, a renowned speaker, hand therapist/physical therapist/epidemiologist has published >420 peer-reviewed papers focusing on measurement, knowledge translation, clinical trials, systematic reviews, clinical practice guidelines, cohort studies and clinical prediction. She has developed outcome measures that are used internationally including self-report measures such as the Patient Rated Wrist/Hand Evaluation.
Dr. MacDermid is the recipient of the following ASHT Awards:
2016 Founders Grant Award Recipient
2013 MacDermid Lifetime Scientific Award in Hand Therapy
2005 Nathalie Barr Lectureship Award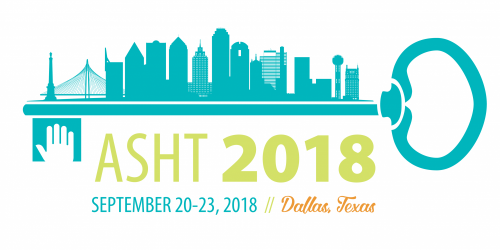 Event Details
Date: Friday, September 21, 2018
Time: 6:30 PM -7:30 PM
Location: ASHT Annual Meeting – Dallas, Texas. Hyatt Regency