The American Hand Therapy Foundation (AHTF) was established by a few visionary American Society of Hand Therapists members who had the desire to promote a higher level of clinical knowledge in the relatively new field of hand and upper extremity therapy, provide world class content for its new Journal of Hand Therapy, and stand up to the challenges of subsistence in a cost-controlled healthcare environment.
The visionary hand therapy leaders who founded AHTF understood that "proof" would be needed to improve and to distinguish exceptional treatment. Clinical research would provide a pathway for the ultimate survival and success of the practice of hand therapy.
AHTF Mission & History
The mission of the American Hand Therapy Foundation is to improve patient outcomes by promoting evidence-based practice through funding clinical and scientific research and education.
Our vision is for all evaluation and treatment methods in hand and upper extremity therapy to be based on well documented evidence.
Read more about AHTF's Mission and History or learn about our Research and Education.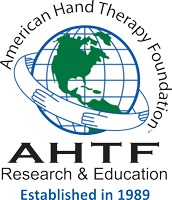 GRANTS
Supporting novice or experienced researchers who are able to expand the scientific evidence, visibility, and quality of upper extremity and hand rehabilitation.
DONATIONS
Support our mission of promoting high impact clinical and fundamental upper extremity research. Your generosity makes a difference! Support your profession through a tax‑deductible gift today.