The Burkhalter New Investigator Award 2023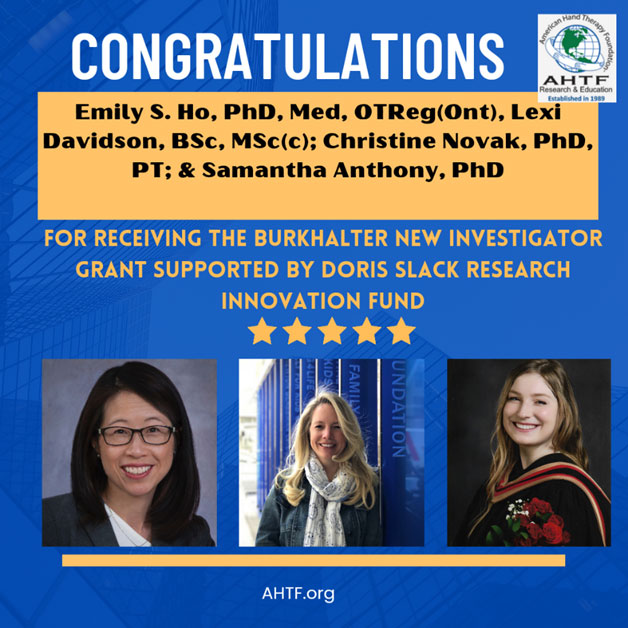 Congratulations to the recipients of the Burkhalter New Investigator grant supported by Doris Slack Research Innovation Fund.
The Burkhalter New Investigator Award was given to Emily S. Ho, PhD, Med, OTReg (Ont), Lexi Davidson, BSc, MSc(c); Christine Novak, PhD, PT; & Samantha Anthony, PhD
"Shouldering the Burdens of Adulthood: An Exploratory Study on the Predictors of Lifelong Participation in Adults with Upper Limb Conditions"
Dr. Samantha Anthony is a Health Clinician Scientist in the Child Health Evaluative Sciences Program of the Research Institute at SickKids and an Associate Professor in the Factor-Inwentash Faculty of Social Work at the University of Toronto. As a clinician, Dr. Anthony works with the multidisciplinary Lung Transplant Team and provides evidence-informed psychosocial assessments, interventions and consultation. In her research role, Dr. Anthony leads a clinical research program focused on establishing a foundation for successful psychosocial adaptation and enhanced quality of life for children with chronic disease, with a particular focus on solid organ transplantation. Patient-engagement, mixed methods and patient-reported outcomes are all key elements of Dr. Anthony's research portfolio.
Lexi Davidson is a first year MScOT candidate from the Temerty Faculty of Medicine at the University of Toronto with a background in rehabilitation science research centered on investigating occupational participation in individuals with brachial plexus birth injury. Through this award, Lexi hopes to create new latitudes in rehabilitative outcomes for individuals living with brachial plexus birth injuries, by challenging perceived demarcations age and psychosocial aspects of upper limb therapies.
Dr. Emily S. Ho is an Assistant Professor in the Department of Occupational Science and Occupational Therapy at the University of Toronto and an advanced practice occupational therapist in the Division of Plastic and Reconstructive Surgery at The Hospital for Sick Children, Toronto, Canada. She has over twenty years of clinical and research experience in paediatric hand and upper limb rehabilitation. Dr. Ho is known internationally as a leader in assessment and evaluation of children and youth with brachial plexus birth injuries and congenital hand and upper limb differences. As a clinician-investigator, her research focuses on understanding, measuring, and evaluating participation and well-being in children and youth with upper limb conditions. She strives to place the voice of youth with upper limb conditions at the centre of her research, partnering with them through research initiatives that focus on physical and mental well-being to empower independent living.