2018 Happy Hour with a Scholar Event Recap
Publish Date: October 9, 2018
Event Recap
On Friday, September 21st the American Hand Therapy Foundation (AHTF) honored Joy MacDermid, BScPT, MSc, PhD as their 2018 Scholar. A record number of hand therapists and sponsor guests attended the event which was held during the ASHT Annual Meeting in Dallas, Texas. Dr. MacDermid, the Editor of the Journal of Hand Therapy and leader in our hand therapy's profession culture of evidence-based research gave a wonderful lecture entitled, "Is hand therapy maintaining its standing as a discipline by tending to its scientific foundations?" She illustrated the value of research and discussed currents trends and their implications. With that said, her lecture also supported the AHTF's mission — to improve patient outcomes by promoting evidence-based practice through funding clinical and scientific research and education — Acknowledging the AHTF's work, the excerpt below captures Dr. MacDermid's thoughts: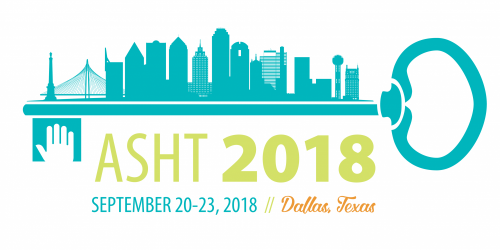 "I cannot say how important the work the AHTF is doing in supporting pilot research work. I sit on many grant review panels and nothing gets funded if there isn't pilot work. So when that pilot research is funded, it really helps the investigator know that somebody else thought that this was a good enough idea to invest in. Funding agencies are trying to advance the health of the nation and they aren't focused so much on the specific profession, rather the health of the nation. As hand therapists, if we can show the value of our work and its impact on health and that other people believe in that, then that goes a long way, supporting that research. This moves the profession forward.

I hope everyone will continue to support the AHTF because they do very important work."
The AHTF experienced an overwhelmingly positive response to Dr. MacDermid's lecture. The AHTF Board of Directors extend their gratefulness for the support and trust in AHTF's mission to the co-Sponsors and attendees whose participation included a tax-deductible donation to this meaningful event. Because of their financial contributions, the AHTF will have that much more funding to support hand & upper extremity research grants.
In closing, the AHTF would like to share a quote that illustrates the sense of engagement and motivation from attending this event by Kimberly Goldie Staines, OTR, CHT, "Dr. MacDermid was fabulous and I have 4 new articles I will get completed and submitted now. Empowering!"
The AHTF, a 501c(3) non-profit looks forward to next year at the 2019 AHTF Happy Hour with a Scholar in Washington DC at the ASHT Annual Meeting!
Generous support for the event provided by:
Gold:
Houston Methodist Hand Therapy Fellowship
Bronze:
Hospital for Special Surgery – Hand Therapy Fellowship
Journal of Hand Therapy
Rocky Mountain University of Health Professions
Texas Occupational Therapy Association
University of North Texas Health Science Center
Patron:
OrthoCarolina – Hand Therapy Fellowship
Select Medical / Novacare
Texas Society for Hand Therapy