2024 Educational Scholarship Honoring Paul Van Lede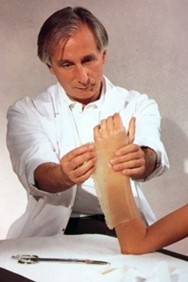 AMERICAN HAND THERAPY FOUNDATION 2024 EDUCATIONAL SCHOLARSHIP
HONORING PAUL VAN LEDE
The American Hand Therapy Foundation through a generous contribution by Orfit Industries. The award will cover Tuition / Registration for an American Society of Hand Therapists Hands on Orthotics Course (Virtual or in-person).

For many years, Paul Van Lede was the Orfit Splinting Product Specialist. Paul introduced the early Orfit thermoplastic line to many hand therapists, OT's and PT's across the globe. He was a master in splinting techniques, which he passed on to thousands of enthusiastic therapists in all corners of the world. During his time at Orfit, he travelled to 60 countries.  Paul developed unique ways of making static and dynamic splints that nobody else had done before.

Through several publications, among which two books, he gave a clear insight in the biomechanics of the hand and the mechanics of splinting. He made understanding the hand and pathologies of the hand an easy task for therapists and surgeons, young and experienced alike.

 

In addition, he spent many hours with Orfit's engineers with the purpose of improving thermoplastics and developing innovative splint materials.

Paul is appreciated and loved by many splinting specialists as a colleague with unique teaching capabilities that echoed further in the career of many therapists.

He graduated in 1967 as a Bachelor in Occupational Therapy. In 1968, Paul became head of the OT department within the department of Physical Medicine at the University Hospital of Liège, Belgium. In 1973 he finalized a post-graduate course in orthotics and in 1984 he promoted as a Master in Hospital Sciences.

His contributions to the world of orthotics are of unsurpassed value and of importance for the benefit of patients, therapists, surgeons and underservered communities.